Secure Connection
The role of LNG in European energy security
How does the global liquefied natural gas market work
Περίληψη Κειμένου και Βιογραφικό Συγγραφέα
The increased role of liquefied natural gas (LNG) in the future European energy mix will be a significant European card against Russia in the future Eurasian geopolitics and energy chessboard.
Athanasios Pitatzis is an Industrial/Petroleum Engineer and Alternate Committee Member of the Greek Energy Forum. He specializes in the development of oil & gas and power markets in the UK and the Southeast Europe and the Mediterranean. The opinions expressed in the article are personal and do not reflect the views of the entire forum or the company that employs the author.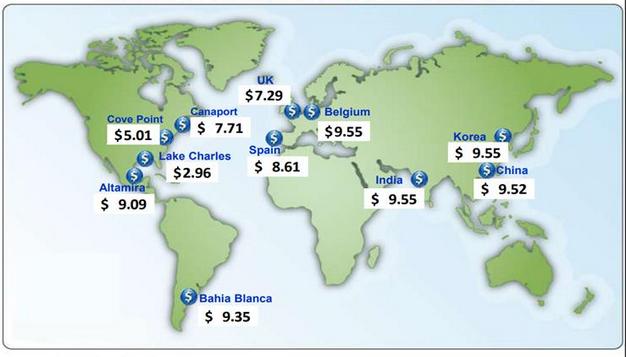 Global LNG Prices, November 2017,Source: https://www.ferc.gov/market-oversight/mkt-gas/overview/ngas-ovr-lng-wld-...
---------------------------------------------------------------------------------------
As expected in the winter, LNG prices are rising due to higher gas demand for electricity generation and domestic heating caused by low temperatures. Developed economies that cover a large part of their energy needs with natural gas will pay higher prices than other countries. Such countries are Italy, Germany, South Korea and Japan. Finally, we should mention that the secret for the global LNG Industry is to increase demand by 2030 to balance the supply and demand markets.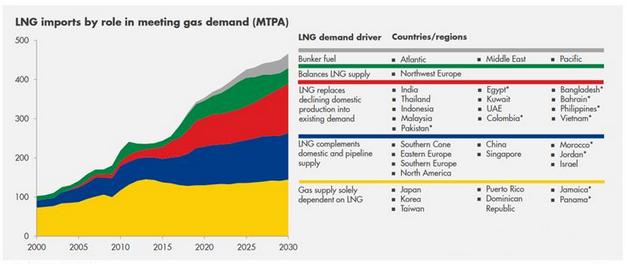 Future Global LNG Demand until 2030, Source: Shell, Presentation LNG Outlook 2017, http://www.shell.com/energy-and-innovation/natural-gas/liquefied-natural...
----------------------------------------------------------------------------
Future global LNG demand will be derived/based on four categories that are:
1. The use of LNG as fuel by ships by replacing oil in areas such as the Middle East, the Atlantic Ocean, and the Pacific.
2. Replace the reduced domestic gas production with LNG imports for countries such as India, Northwest European countries, and Vietnam.
3. To cover domestic gas demand with LNG imports but also to import from pipelines for countries such as Southern and Eastern European Countries, China and Jordan.
4. Cover internal demand only by imports of LNG for countries such as South Korea, India, and Taiwan.
Finally, we can say that the following factors may affect future global LNG prices but also global LNG demand and supply, these are:
- Future exploitation of their domestic methane hydrate deposits at competitive mining prices to cover their domestic gas market for countries like India, China, Japan or even Greece.
- A future global recession due to the creation of a global bubble / artificial prosperity due to the oversupply of money from all the central banks of the planet.
- A future crisis/recession of the Chinese Economy due to a property bubble or stock market bubble.
- A new energy breakthrough such as a new form of cheap energy or a rapid reduction in the cost of energy storage and renewable energy.
- An energy policy shift, like the closure of all Japan nuclear power plants following the Fukushima accident. At this point, we should point out that Japan plans to start re-energizing nuclear power stations by 2025, which will reduce the demand for LNG imports. Already by September 2017, Japan had begun production of 5 of the country's 54 total stations, with four being destroyed in the Fukushima accident and the rest being inactive [1].
- The development of new liquefied natural gas exprort technologies, which will reduce the cost of export per $ / MMBtu and reduce the plant's initial capital costs. These technologies are Small-Scale LNG and the Floating LNG Units (LNG).
The role of the LNG in European Energy Security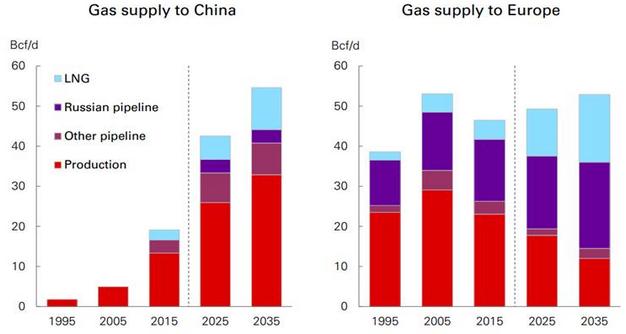 Coverage of natural gas demand for China and Europe by the source of supply since 1995 and with a forecast to 2035, Source: BP Energy Outlook 2017, https://www.bp.com/content/dam/bp/pdf/energy-economics/energy-outlook-20...
----------------------------------------------------------------------------------------
Future European energy security will increasingly rely on gas imports through either pipeline either in LNG form or artificial natural gas storage areas in the coming years.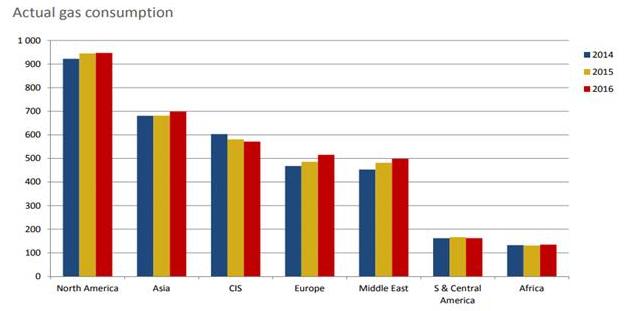 Annual Natural Gas Demand by geographical area for the years 2014, 2015 and 2016, Source: Natural Gas In The World – 2017 Edition, CEDIGAZ, October 2017, http://www.cedigaz.org/documents/2017/NGW%202017/NGW2017EditionSUMMARY.pdf
----------------------------------------------------------------------------------------------