Secure Connection
Georgia's European choice
Right time for EU to open its doors to the country
Περίληψη:
During three decades public opinion polls always confirmed that 75-85% of Georgia's population firmly support the European and Euro-Atlantic integration of the country. Such a high three decade-long public support, can only be guaranteed when it is a truly historical and civilizational choice of the entire society of the Georgia.
DAVID DONDUA is the Ambassador of Georgia to the Hellenic Republic and the republic of Serbia.
previous-disabled

Page

1

of 2
It was not coincidental that in 2017 Georgian government delegation led by the Prime Minister in company with students and representatives of various communities flew to Athens on the very first flight after the launch of visa-free travel with the EU. It was a symbolic gesture to mark Georgia's return to Europe through Greece.
Today when Georgia, alongside with Ukraine and Moldova (Associated Trio) has formally submitted its application to join the EU, Tbilisi again counts on Athens understanding and support for its aspiration. Submission of application was logical continuation of the process that Georgia started right after regaining independence in 1991 to find its proper place in the family of European democracies.
What always differed Georgia from its neighbors and countries in the wider region was very strong European identity of the society. When it has become inevitable that Soviet Union will cease its functioning, no one in Georgia debated which direction to go. It was obvious for almost every citizen that our future is within the family of European democracies. During three decades public opinion polls always confirmed that 75-85% of country's population firmly support Georgia's European and Euro-Atlantic integration. Such a high three decade-long public support, can only be guaranteed when it is a truly historical and civilizational choice of the entire society of the country.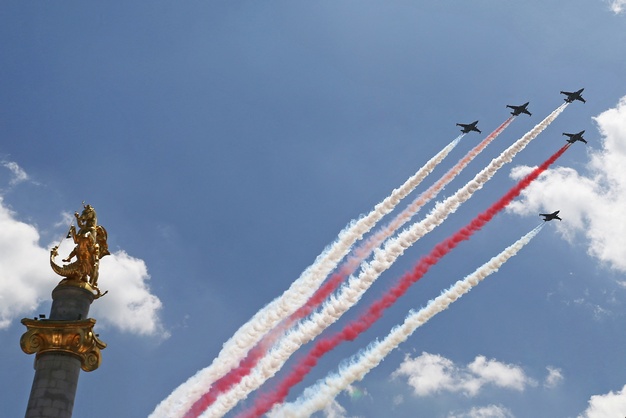 Georgian military jets release smoke in the colors of the national flag during the Independence Day celebrations in Tbilisi, Georgia May 26, 2022. REUTERS/Irakli Gedenidze
-----------------------------------------------------
Those who doubt it, could look further back in history to find out that already in XVII century Georgian kings were dispatching envoys to the west to persuade European monarchs to embrace small Christian country in faraway Caucasus region that was squeezed between big and aggressive neighbors. It vividly shows that Georgia always preferred value based alignments, rather than opportunistic ones, when nations try to find protection under the powerful neighbor. Despite warm welcome and initial promises from Paris and Vatican, concrete historical circumstances made efforts of our ancestors all in vain.
Next brief opportunity emerged after the WWI, when Georgia declared independence after the collapse of the Russian empire. The primary objective of the government of the Democratic Republic of Georgia in 1918-1921 was focused on seeking diplomatic recognition by the international community and invitation of country to the League of Nations. Among other countries, Georgia had its ambassador in the Kingdom of Greece as well, to get recognition of its independence from oldest friend. Decision was matured and only Russia-led Red Army occupation and forceful Sovietization prevented Georgia to become full and formal member of free world.
Already 100 years ago, our country proved to be committed to the fundamental values, which form the cornerstone of the modern European Union - democracy, the rule of law, equality, protection of human rights and fundamental freedoms. These very values laid the groundwork for the Constitution of the Democratic Republic of Georgia in 1921, which due to the progressive ideas it embraced, was remarkable even in Europe of that time. It were the values enshrined in the first Constitution, which remained indelibly imprinted on our historical memory, and after regaining independence in 1991, continue to guide us to our historic home – European family.
Georgia's European choice of its future was one of main reasons that Russia three times in last three decades launched a military offensive and war against sovereign country, which has resulted in 20% of our territories occupied by Russian Federation and more than 300 000 people forcefully displaced. Georgia in many occasions has paid and still continue to pay painful prize in various currencies for its European aspiration.
Since 2013 when Georgia signed Association Agreement (AA) and Deep and Comprehensive Free Trade Area (DCFTA) with the EU, our drive towards Europe took new impetus. These accords set a solid foundation for Georgia's political association and economic integration with the union.
Visa liberalization with the EU/Schengen states in 2017 was yet another important step to bring country closer to the EU. By opening its borders, our European partners recognized the progress made by Georgia and demonstrated wish and readiness to enhance people-to-people contacts. Visa-free travel offered our citizens opportunities that have already been translated into concrete, tangible results in tourism, business, student/academic exchanges, scientific cooperation and many other arias.
As we are preparing for the EU membership, we continue to successfully implement the AA/DCFTA, approximately 45% of which have been already fulfilled. The progress in this regard is irreversible and by the time we conclude the AA implementation process, about 70% of core EU acquis will be incorporated into national legislation, giving Georgia quite solid stance in terms of European integration. It worth to mention here, that during the implementation process Georgia was named strong front-runner for a number of years. Georgia had been very committed and eager to implement acquis and other criteria to get as closer as practicable to the EU, until political climate will become favorable for the formal invitation.
Initially the Government of Georgia was aiming to submit formal application for the EU membership in 2024, but current turbulent developments prompted countries of Associated Trio to speed up this process.
previous-disabled

Page

1

of 2